Interested in becoming an NHC member? Click here to find out more about NHC service.
NHC Commonwealth Civilian Coronavirus Corps (CCCC) in Northeast Pennsylvania is now recruiting members! Click "Apply" to connect to the NHC application. Check back soon for details about host sites and open positions!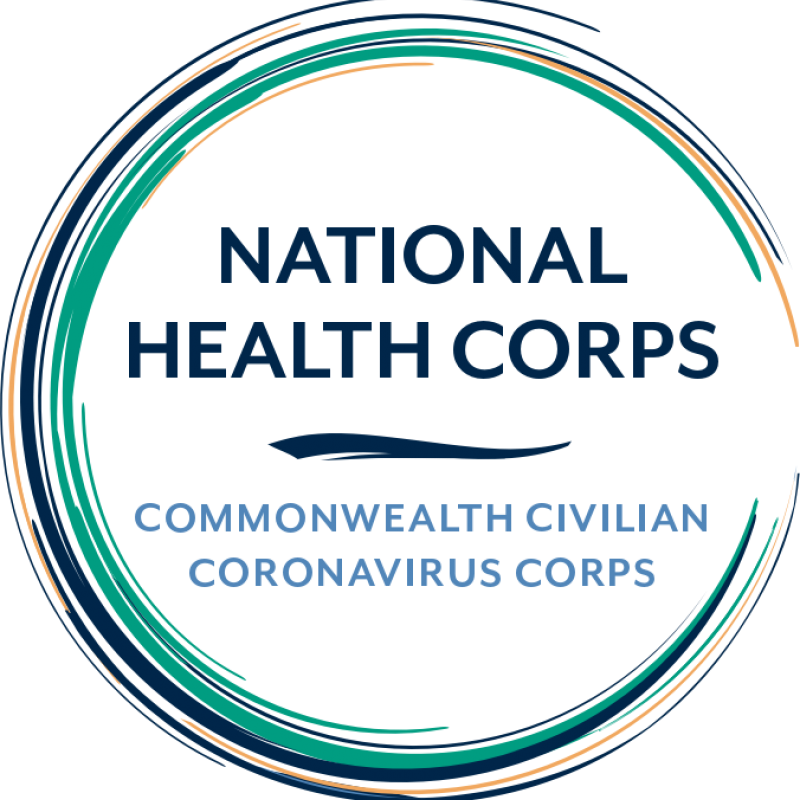 Why Serve Northeast Pennsylvania?
Northeastern Pennsylvania has been a "melting pot" of ethnicities and lifestyles for many generations. The population boom in the coal mining region from approximately 1850 to 1920 brought immigrants from many countries of Europe. In recent years, people from Mexico, South America, Asia and the Caribbean have settled in Scranton, Wilkes-Barre and Hazleton. In the rural counties surrounding these urban areas, family farms are often passed from generation to generation. This "melting pot" of people and culture creates a unique blend of food, festivals, farmer's markets, religious celebrations, and traditions. Unfortunately, it also creates numerous health disparities based on race, ethnicity, economic status, literacy, access to transportation and access to healthcare.
 COVID-19 has highlighted many long-standing health inequities across Pennsylvania based on rurality, race, ethnicity, age, poverty, and other social vulnerabilities. On April 15, 2021, the map of COVID-19 case counts published by the Pennsylvania Department of Health (PADOH) underscored these inequities revealing that while case counts have been higher in the Philadelphia and Pittsburgh areas, cases per 100,000 population are higher in less populated, sicker, and under-resourced rural areas. Available data also show that Black residents, who are 12% of the population (~1.5 million), have accounted for 28% of COVID-19 cases and 21% of deaths in Pennsylvania. Hispanic individuals are 8% of residents (~1 million), and have accounted for 26% of cases and 6% of deaths. In addition, vaccine hesitancy was substantially higher among African Americans (34%) and Hispanics (29%), as well as those who had children at home (25%), rural dwellers (29%), people in the northeastern U.S. (25%), and those who identified as Republicans (29%) compared to the community-based sample of American adults.
The Commonwealth Civilian Coronavirus Corps members will serve in healthcare clinics for the uninsured and underinsured, social service agencies providing relief from food insecurity to families and rural healthcare centers where they will educate on COVID-19 prevention and vaccination.
Header Photo by: Christopher Seliga, CC BY-SA 3.0, via Wikimedia Commons.
Our Host Sites
Telespond Senior Services
1200 Saginaw Street
Scranton, Pa. 18505

Maternal Family Health Services
640 Madison Avenue
2nd Floor
Scranton, PA 18509
United Neighborhood Centers
Administration Offices:
425 Alder Street
Scranton PA 18505

Primary Location:
410 Olive Street
Scranton PA 18508

Wayne Memorial Community Health Centers
Wayne Memorial Community Health Centers/ Administration
Suite #6
600 Maple Ave.
Honesdale, Pa 18431


Valley in Motion
1300 Old Plank Road
Mayfield, PA 18433
The Wright Center for Community Health, Mid-Valley Practice
5 S. Washington Ave.
Jermyn, PA 18433



VNA Hospice and Home Health of Lackawanna County and Surrounding Communities
VNA Hospice and Home Health of Lackawanna County
301 Delaware Avenue
Olyphant, PA 18447
Volunteers in Medicine
Volunteers in Medicine
​190 North Pennsylvania Ave
Wilkes-Barre, PA 18702

Catherine McAuley Center
Catherine McAuley Center
Administration Building
430 Pittston Ave.
Scranton, PA 18505
570-342-1342

Catherine McAuley House
121 Church Street
Plymouth, PA 18651
570-779-2801
The Wright Center for Community Health, Scranton, PA
501 S. Washington Ave.
Scranton, PA 18505
Hamidian Training Institute
4113 Birney Ave.
Moosic, PA 18507