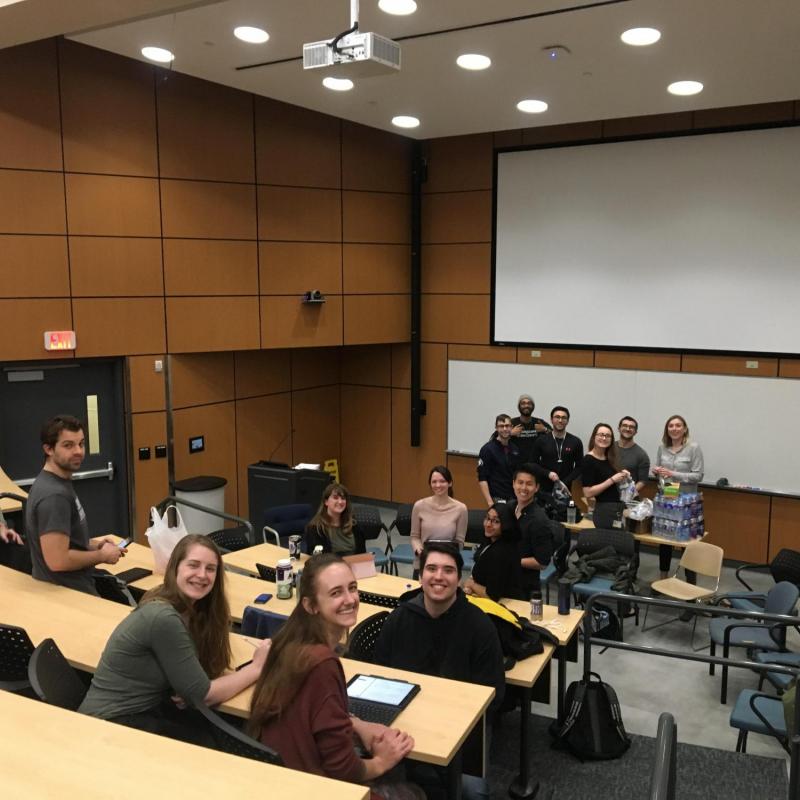 Owen Dean (NHC 2016-2017) reflects on completing a service project with support from an NHC Alumni Grant.
The streets of Rochester hold the experiences of hundreds of people who find themselves without a home to stay in. On any given night - including those bitter cold ones during upstate New York winters - an estimated 849 people experience homelessness. These individuals possess simultaneous narratives of vulnerability and resilience, and often find community among others who understand the complexity of life in this difficult environment.
We, as members of the University of Rochester's Street Outreach team, are privileged to spend some of our time bearing witness to these members of our community who experience homelessness. We are medical students, nursing students, and social work students working to build trust among a community that is often marginalized by medicine. Three nights a week, three or four of our members visit local shelters, community organizations, and parts of the city where those experiencing homelessness are known to reside. We talk through medical and social issues, perform blood pressure and blood glucose testing, give flu shots, and offer hygiene supplies when we have them. We seek to meet people where they are at and make them feel heard. We ultimately hope to build a better relationship between the community we serve and the medical system, through a better understanding of what some of the barriers look like to the individuals we serve, and creative solutions to ensure people's needs are properly met.
When we are out on rounds, we often get requests for small items like dry socks, sweaters, a cup of coffee, or a bus pass to make a clinic appointment possible. We do not have the supplies to meet these needs the majority of the time. This is where the National Health Corps Alumni Grant comes in. We ordered some of the most requested items, including socks, lip balm, hand lotion, throat lozenges, water bottles, and bus passes, and put together 60 care packages to hand out on rounds. To put it all together, we adapted one of our monthly member meetings into a packing party. With 15 members in attendance, including four AmeriCorps alumni, it was quick work!
One of the most important parts of each care package is the inclusion of four bus passes. In Rochester, the transit system does not have discounted transfer fares between bus routes. This means that, for many individuals living in downtown Rochester, visiting a healthcare provider, care manager, or even a grocery store, is two full fares away. A typical conversation on rounds may end with, "I really hope you can see a health care provider this week" and it is followed by the common refrain, "well okay, but how am I supposed to get there?" With the National Health Care Alumni Grant, we can actualize the means to get to and from at least 60 appointments!
At the time of writing this post, we have handed out 21 of the 60 care-packages on rounds. The feedback has been great! One individual mentioned that it was one of the best things that had happened to him all week. He planned to use the bus passes to go to an outpatient mental health clinic for the first time in years. Another individual we met on rounds was grateful for the ability to care for his feet with the supplies in the care package. His need for transportation to the wound care clinic, and a new pair of socks to keep blood circulating to heal his diabetic foot ulcers, reminded us that sometimes even things that seem small can have significant impacts on people's health.
As we have learned from our time doing outreach, medicine often works hard to serve the people that we meet out on the street, but does so imperfectly. It is often unable to connect people to the totality of the services that they need. We have heard stories of patients whose hospital bills and medical debts contributed to their current lack of shelter. We have learned from those who have been stigmatized for their mental health concerns. We have seen the negative health effects of staying outside in inclement weather, or in shelters when respiratory illness spreads rapidly. Homelessness continues a vicious cycle of poor health, as a cause and an effect.
On Outreach, we aim to serve as a bridge between the community and the medical care that is needed and deserved. It takes time to build rapport, to establish a connection with people and let them know that we believe that they deserve housing, health, and the makings of a comfortable life. We are limited in our capacity to provide these things, but have seen how powerful it can be to meet even some of the small needs. Thank you National Health Corps for supporting our mission.