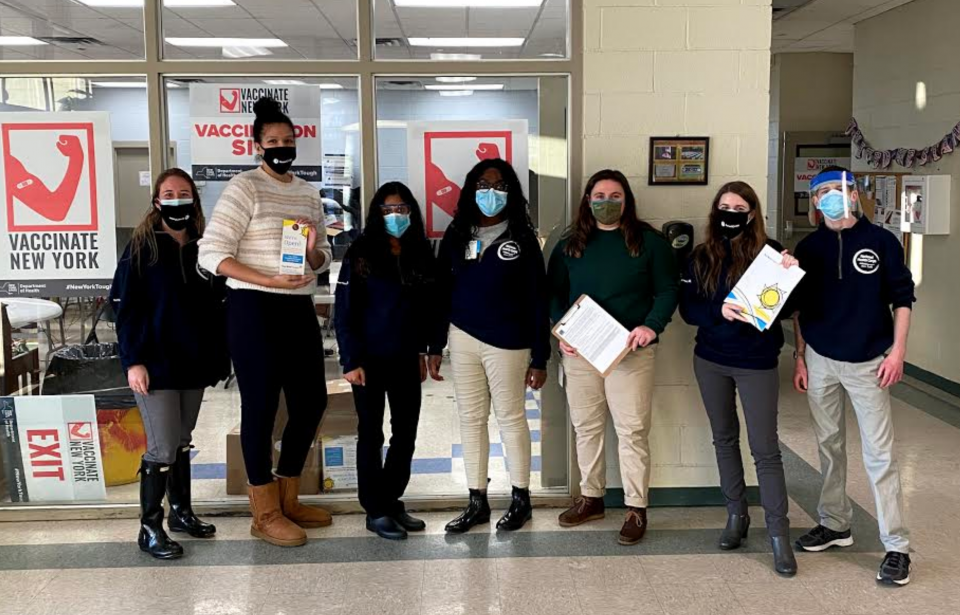 NHC is proud to support nationwide efforts to prevent and respond to the COVID-19 pandemic.
While all National Health Corps service activities include providing health and social service education and access to populations that are disproportionately impacted by the pandemic, many NHC host sites where members serve have shifted the need for service activities to focus directly on COVID-19 prevention and response.
During the first half of Service Year 2020-2021, NHC members have:
Distributed more than 14,000 COVID-19 vaccines
Screened or tested more than 8,500 people for COVID-19
Provided immunization outreach to nearly 3,300 people
Provided COVID-19 related education and outreach to more than 3,500 people
Additional vital services NHC members have conducted include:
COVID-19 contact tracing
Supporting schools and communities in disaster relief activities related to COVID-19 closures and social distancing procedures
Assisting community organizations or schools in maintaining a safe and educational environment for displaced individuals
Developing and implementing distance learning solutions for individuals, as well as engaging in these activities for the wider community affected by coronavirus closures
Supporting local communities with food insecurity, social isolation, and social distancing appropriate service, including environmental, food pantry and housing support services
The pandemic has required NHC members, staff, and host sites to do what they do best - "get things done" despite any obstacles in their way. Members have contributed to COVID-19 response efforts through both in-person and remote service, and have shown flexibility, adaptability, and creativity in finding ways to sustain and expand their community impact. Many members have been on the front lines during the pandemic, supporting their communities in addressing both direct and indirect effects through vaccine distribution, outreach, and education, building host site capacity to offer telehealth services, and increasing access to critical resources including food and medication.
NHC has been creative in identifying ways to connect as a team during the pandemic as well, both within and across program locations. Our increased comfort with connecting virtually has allowed members to get to know members in other locations in ways they never had before through cross-Corps virtual trainings, committee meetings, and team building activities.
NHC members can support communities in a wide variety of ways during the COVID-19 pandemic and its aftermath. Visit our Seeking Volunteers page if you think an NHC member may be able to help with pandemic response in your organization.