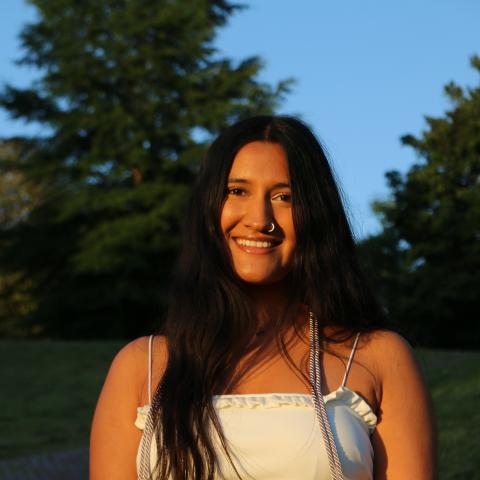 Pronouns: She/Her/Hers
Hometown: Manassas, Virginia
Educational background: B.S. in Biology with minors in International Social Justice and Chemistry from Virginia Commonwealth University
Host Site: University of Florida Shands Jacksonville Medical Center, Healthy Start
What is your title and role at your host site? My title is Maternal Health Care Coordinator. In this role, I will be serving current and future mothers and their families by providing nutrition and exercise education in clinical, community, and home settings. The education I will provide supports healthy pregnancies, child development, and women's overall wellness. I will also facilitate fitness and nutrition activities for pregnant and postpartum women, such as walking and yoga clubs. I will conduct screenings and referrals for patients, in particular for the programs UF Health provides such as Healthy Start, Little Miracles, and Nurse Family Partnership home visiting programs. Assessing patients for opioid usage to determine if there is any risk for Neonatal Abstinence Syndrome will also be a part of my role.
Why did you join the National Health Corps Florida AmeriCorps program? I have a very strong belief that if someone wants to pursue a career in non-judgmentally serving others from all backgrounds, then they need to do the work at a community level to learn more about the populations they want to serve. I believe that NHC promotes this exact type of mindset, therefore I found it to be a great fit, as I hope to work in free clinic environments in my future. While I had some wonderful clinical volunteer experiences in college, I also acknowledge how much there is left for me to learn to gain a better insight into what struggles patients encounter in trying to access healthcare. I am thrilled to join NHC and serve patients the best that I can in my position, while also observing my team members' roles in order to broaden my knowledge of what career opportunities exist in the field of public health and medicine. I am also very excited to join a new community of like minded individuals who have a passion for healthcare-related community service!
What are you hoping to gain from your year of service? More than anything, I want to learn from the patients I serve and listen intently to their stories. I believe this will go hand in hand with expanding my compassion and understanding for patients struggling to access healthcare. I hope to also gain insight into what ways in my future career I want to aid in overcoming structural barriers that hinder patients' positive health outcomes, whether it be on the public health or medical side, or both. And I hope to explore the Northeast Florida area!
What are your plans after AmeriCorps service? After my AmeriCorps service, I plan to apply to medical school, possibly through dual degree programs with an MPH. At the moment, I hope to pursue a career in primary care. In my next gap year, I want to continue serving communities in need. I also hope to find some time to travel!
Where do you envision yourself in 5 years? I envision myself in medical school and hopefully have continued to engage with the community around me. I hope I am happy and someone I'd be proud of ☺