Interested in knowing what an NHC Florida AmeriCorps member's typical day or week looks like?  It is difficult to say because each member position and host site is very unique; some positions are more structured, while others vary from day-to-day.  Nevertheless, a member's day very much depends on on 1) the needs of the community and population he/she serves, 2) the needs, expectations, and culture of the host site, and 3) the nature of the programs and services being provided.  Below, you will find a few examples from  members who would like to give you a glimpse into a typical day at their host site.
Rebecca Ratusnik
Care Coordinator at UF Health- Healthy Start 
As a Care Coordinator at UF Health, there is no such thing as a "typical" day. While many of my roles are similar week to week, each unique patient interaction makes my service dynamic and engaging. 
Monday always begins bright and early when I administer the first of our 8 weekly free pregnancy test clinics (a responsibility I share with my fellow UF Health member, Ian). The clinic runs from 8-9AM; therein, I perform pregnancy tests and discuss results with each patient. I then finalize remaining documentation from the previous week, and conduct follow-up to ensure patients are receiving services. On some Monday afternoons, I also serve at the UF Health Elizabeth G Means Community Health Clinic for uninsured and undocumented moms-to-be where I conduct Healthy Start patient interviews and provide education on healthy pregnancy.
Tuesdays begin with documentation from patient interviews I have conducted at Elizabeth G Means. Then, I will often serve on the Mother-Baby Unit at UF Health where I conduct postpartum patient interviews for mothers who have just delivered. I love seeing the newborn babies and having the opportunity to provide health education to new parents on safe infant care and the postpartum period. In between patient interviews, I register patients in the Healthy Start online system, prepare for appointments, and begin documenting my interactions. I administer another free pregnancy test clinic from 2-3pm on Tuesday afternoons.
Wednesday is definitely my busiest day because we have our New Obstetric Clinic from 8:30am until about 1:00pm. I will typically conduct between 5 - 8 Healthy Start patient interviews throughout this time with moms-to-be who are having their first prenatal appointment at our OB/GYN clinic. This is our opportunity to reach our patients early in pregnancy to provide them with health education and support services available through Healthy Start, and to offer follow-up throughout pregnancy. Wednesday afternoons are spent registering each new mom in Healthy Start, beginning documentation, and making transfers for follow-up services. On certain Wednesday afternoons, I remain in the OB/GYN clinic to conduct additional patient interviews for returning prenatal patients.
Thursday is what we nickname "Documentation Day" in which we catch up on our documentation from patients seen throughout the week. We may also conduct patient interviews and provide health education by phone for any patients unable to meet with us on Wednesday. I administer another free pregnancy test clinic from 2-3pm on Thursday afternoons. Time permitting, I also use Thursdays for completing tracking measures of attendance at childbirth classes or patient visits to Labor & Delivery Triage.
Fridays begin with my last pregnancy test clinic of the week from 8-9am. After that, my role varies based on the needs of our department. I am often involved with the Nurse Family Partnership program, an evidence based home-visiting program for first-time moms, in which I assist with resume-writing, job applications, and research community resources to assist first-time moms and infants. I will also use Fridays to prepare for and coordinate upcoming health fairs. Additionally, Friday is when I have time set aside for my weekly mentor meeting to discuss how my term and roles are going (but, I also check-in with my mentor daily!).
Saturday mornings are often spent at a Group Service Project with my fellow AmeriCorps members for a local non-profit organization, or at an outreach event, such as a health fair, on behalf of UF Health Women's Services. In the afternoon and evening, I take some time to relax, which usually includes reading, painting, cooking, or spending time with fellow members!
Scott Berman 
Patient Navigator at I.M. Sulzbacher Medical Center- Beaches Clinic
The Sulzbacher Beaches Clinic is a wonderful place to serve. A satellite office of the Sulzbacher Health Center in downtown Jacksonville, our location serves low-income patients, some with insurance but most without, who live in the beach communities of Jax (Jacksonville). As patient navigator, my responsibilities revolve around prescription medications. I help patients apply for patient assistance programs, which are services offered by drug companies that provide free medications to those who cannot afford them.
On a regular day, I begin by ordering refills on medicines for people already enrolled in a patient assistance program. Advair, Ventolin, Effexor, Lantus. You name it. When the FedEx and USPS delivery people arrive, I take time to unpack medicines and stock them in our medicine room. Throughout the morning I also receive messages in our electronic medical record system for patients who just saw a Nurse Practitioner and need medicines ordered. When this happens my hands are busy at the computer generating applications. When patients come back in the afternoon to pick up their prescriptions, I meet with them to discuss patient assistance programs and have them sign their applications. The applications are then signed by our nurse practitioners – the finishing touch. As the service day comes to a close, I am busy faxing completed applications to different drug companies for approval.
Now, it's lunchtime. So, I reach into the fridge, it's clear that nobody in the clinic misses his/her Daisy Brand sour cream or Mountain Dew. In an effort to mix things up, today I have put smashed avocado on my Boar's Head Salsalito turkey sandwich. Upon sitting at my desk with blue, insulated lunch box at my side, I am greeted by the clinic staff. Sharon is checking the news on her computer, Emilie (my mentor) and Tina showing us pictures of their daughter and grandson, respectively. I am grateful we enjoy one another's company – not just at midday but all the time
Although my days can be fairly consistent, I am rewarded when able to provide patients with medications they need but cannot afford. In addition, I feel privileged to serve in a clinical setting where patients entrust me with personal information so that I may help them be healthy.
Laura Ramsdell
Case Manager at River Region Human Services
At 6am the majority of Jacksonville residents are sound asleep in their beds, but my day is already in full swing. Each day around 400 clients walk through the clinic door at River Region Human Services to receive much needed medical and mental health services.
I and the other NHC member at my site serve clients by assisting them with their medical care, insurance, and social service needs. We usually see a steady stream of clients throughout the morning, but some mornings we may have multiple clients in our office at the same. It is a rare occasion for us to only see one or two individuals. Needless to say, the mornings can be hectic and demanding, but they do fly by quickly.
The afternoons are the complete opposite- you would not even believe it was the same place as earlier in the day. After the clinic closes to clients the place is quiet and nearly empty. I like to use this time for planning. I can create lesson plans for health education and HIV/AIDS classes or coordinate presentations for Building Blocks- the psychoeducational group for pregnant and postpartum women that I assist with. Basically I use this time to do all the things I can't get down while actively meeting with clients.
No two days are ever the same. No matter what time of day it is there always seems to be some task that needs to get done.  Through my service with the National Health Corps I feel I've played an active role to further the mission of River Region- to provide integrated health services that change lives, rebuild families, and restore communities

Anna Ulyanenkova
Health Educator at FDOH Clay County- Bear Run Clinic
My day at Bear Run Clinic starts with the nurses' morning meeting. At this meeting, we review nursing assignments for the day and clinic protocols and policies. Attending this meeting is especially important to my position because it lets me know which nurse I need to contact to see a client that I have previously identified as a good candidate for the Healthiest Weight Coaching Program.

After the meeting, I review my follow up list, which can range anywhere from 5 to 25 clients.

From here, my day involves a combination of the following activities, in any order, depending on if and what time I have coaching appointments:

If I have appointments, I prepare guiding questions and perform research that will help me throughout my sessions. The Healthiest Weight Program is client-centered – if a client is interested in a particular subject that relates to their healthy living and weight goals, then I will find as much information about it as I can! I research anything from sources of protein and potassium and strategies for portion control, to cognitive reappraisal strategies for emotional eating and overcoming perfectionism.

If I don't have an appointment, I follow up with clients via phone. Follow ups include calling a client who has previously declined participating in the Healthiest Weight Coaching Program to see if they have changed their mind, scheduling an appointment with a client, confirming coaching appointments that are scheduled for the next day, or conducting coaching sessions over the phone with clients who cannot make it to the clinic due to transportation limitations.

Throughout the day, I meet clients who are good candidates for the Healthiest Weight Coaching Program. I meet these clients before or after their appointment with the doctor, introduce them to myself and the program, and schedule them for a coaching session if they are interested.

Though most of my coaching appointments take place in the clinic, some of my clients prefer walking appointments. On average, I conduct 3-4 walking appointments per week. These are personally my favorite because they are essentially an active and informal outdoor coaching session!

If I have time toward the end of the day, I tend to the clinic's outdoor garden. Additionally, I consult with doctors at the clinic regarding their patients' progress in the Healthiest Weight Coaching Program. Specifically, we address dietary restrictions and nutrition questions that clients raise during coaching sessions.

I end my day by reviewing medical histories of patients who are scheduled to come in the next day. This helps me identify candidates for the Healthiest Weight Program, and expand the program as a whole!

Cailyn Lingwall
Health Educator at FDOH Baker County
The best thing about my service is simply being able to talk with so many diverse people each day because I have not only learned a lot from their experiences, but also built stronger relationships.  As a health educator, I spend a significant amount of time out in the community preparing for or facilitating a lesson.

Monday: I teach a decision making, substance, and tobacco prevention class called "Too Good for Drugs" class in the 6th grade at Baker County Middle School (BCMS) in both the morning and afternoon.  The rest of the day, I lesson plan for the upcoming week.
Tuesday:  I facilitate a women's support group class called "New Heights" at the Baker County Jail or give a presentation in the community (such as the KADET tobacco prevention program) in the morning. In the afternoon, I again teach "Too Good for Drugs" in the 6th grade at BCMS.  I spend the rest of my afternoon preparing for the youth Tobacco Education Group or lesson planning.
Wednesday:  I spend all morning lesson planning or scheduling youth Tobacco Education Group participants for community service hours.  In the afternoon, I facilitate the youth Tobacco Education Group at the Baker County Health Department.
Thursday: In the morning and afternoon, I am back at BCMS teaching "Too Good for Drugs" in the 8th grade.  I spend my last few hours supervising youth Tobacco Education Group participants' community service hours or lesson planning.
Friday: I do not have any classes scheduled on Friday, so I usually use my time to meet with the Prevention Coordinator at BCMS to go over activities and lessons for our "Too Good for Drugs" classes. I spend the rest of my day preparing for other projects such as Point of Sale Tobacco Audits in Baker County.
Saturday: In the morning and early afternoon, I usually participate in a group service project, attend an outside training with other National Health Corps of Florida members, or help with a community health fair in Baker County with my host site. 
My biggest piece of advice: Seek new volunteer opportunities in the community of your host site. I recently served at a health fair in Baker County, and found a volunteer coaching opportunity with Girls on the Run of Northeast Florida. I can't wait to start coaching the 3rd grade girls at Macclenny Elementary School!

Hillary Tully
Healthy Start Care Coordinator at FDOH Nassau County

Every morning I come in to the Healthy Start office at the Department of Health in Nassau County – usually by bike, which is fun! When I get here I take a look at my tasks for the day – usually I have clients to call and follow up with, women to meet with for smoking cessation or parenting education, or an appointment at a local obstetrician's office to meet a new client and go over important prevention and education points at the start of her pregnancy. Next, I check my email to catch up on correspondence with community partners like school principals, soccer coaches, or daycare staff – each month I collaborate with people like these to provide injury prevention education to the community, ranging from poison safety to positive parenting to distracted driving awareness. I also teach a parenting class for parents of teenagers, so if there's a session coming up soon, I spend some time going over the material and presentation, preparing handouts, or recruiting participants.  Whenever I'm in the middle of one thing, another is likely to come up, so I stay busy all day going from one task to the next, and back again. In between all this I also spend time editing the NHC Florida blog, making sure that members' posts are top notch for publication. At the end of the day I'm always amazed – how did those 8 hours go by so fast? Time flies when you're Getting Things Done!
 
Carley Pels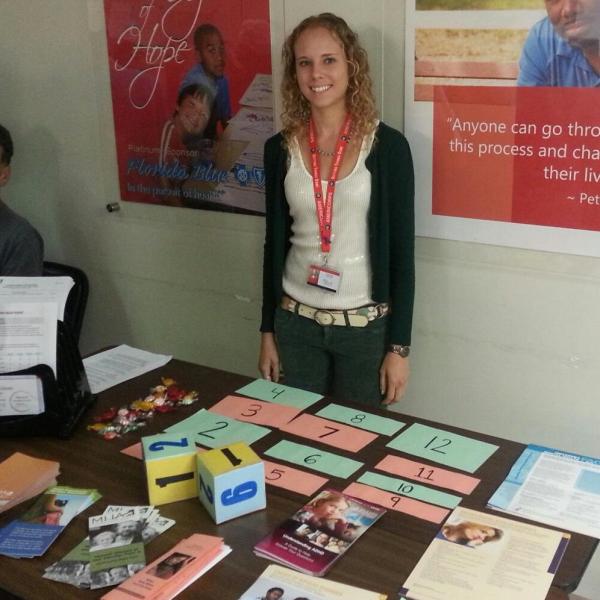 Case Manager at River Region Human Services
If you're reading this now, I'm sure you've poked around the NHC Florida website a bit already.  You've probably read that there is no "typical day" for many of the members.  On behalf of the case management position at River Region Human Services (RRHS), I am here to confirm that notion.
From when the doors open at 6am until about noon, clients are encouraged by counselors and nurses to visit the AmeriCorps office. Conveniently located together in one spot, the NHC Florida Patient Navigator, Ajan, and I operate on an open-door policy, inviting clients in to chat. We assess the client's needs; Ajan handles the medical and insurance issues and I assist with social service matters. There are days of back to back to back clients seeking assistance, and there are days when only a single client may request anything at all (these are fairly uncommon).  While the specific inquiries vary, the bulk of my interactions involve navigating issues with food stamps and transportation, linking clients to viable housing options and financial assistance programs, and advising clients on resume formatting and job applications. 
The hours after lunch are quiet. I utilize this time to research and gather resources for clients, coordinate facilitators for classes, and plan health education events. If I have phone calls to make, I save them for the second part of my day. It took me only a handful of early morning voicemails to realize that most places aren't open during the first few hours of my service.
Meetings and groups are the only recurring events on my calendar. Each Wednesday afternoon, the clinic staff convenes for a meeting, and I also attend monthly community meetings that address homelessness and tobacco use. Currently, I am facilitating two HIV classes a month and co-facilitating a weekly wellness group.
I can safely say that on most days, I learn something new, meet someone new, or have a new experience. RRHS clients keep me on my toes and engaged in service. If you're seeking a fast-paced environment and you're flexible and patient, I encourage you to consider serving as a case manager at RRHS! 
Valerie
Healthy Start Care Coordinator at Florida Department of Health in Nassau County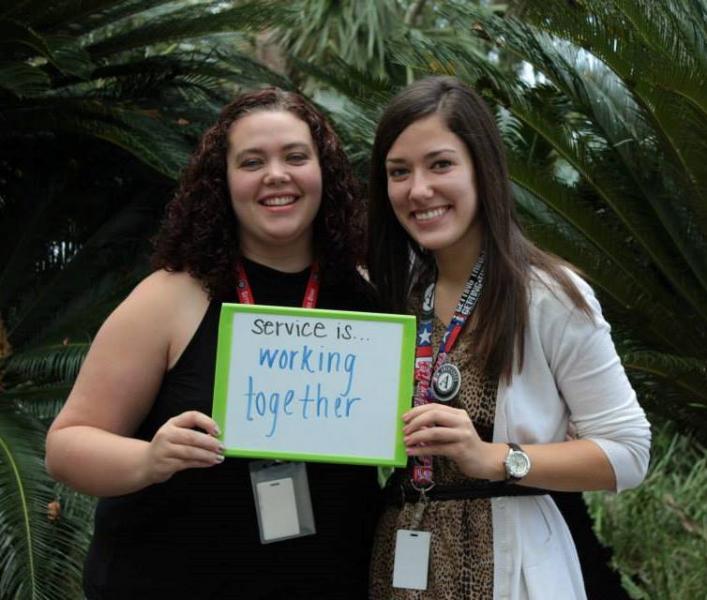 Each day, I usually have interactions with my Healthy Start clients, moms, families and infants, in some form of care coordination.  I may be completing initial contacts by phone calls or in-person visits (assessing each risk factor a client may have and determining what level and what type of services they may need), continuing care with a client through mail, phone calls, or in-person visits (using several curricula and developmental screens that I have been trained to use), or providing case management to my clients to connect them with community resources.
The other components of my service are spread throughout the week in between my daily care coordination.  On any given day, I may find myself following up with women who have missed their family planning appointments, planning and executing outreach, and education for injury prevention to local youth and facilitating Teening Up classes to local parents of teens.
Jennie
Health Educator at Florida Department of Health in Baker County
My day to day tasks mostly consist of lesson planning and/or facilitating a lesson.  In the table below, the
bold/blue
items are my most consistent initiatives, starting in the beginning of the term.  Besides lesson planning and facilitating, I also make follow up calls for diabetes clients, attend coalition meetings at the health department, and work on program evaluation.
 
Monday
Tuesday
Wednesday
Thursday
Friday
Saturday
Morning
Positive Youth Development Program
(Off-Site)
(Lesson planning; additional activities)
Dental Program (Host Site)
Positive Youth Development Program
(Off-Site)
High School Health Program (Off-Site)
Health Screening/ Community Event
*Varies
Afternoon
(Lesson planning; additional activities)
Positive Youth Development Program (Off-Site)
Tobacco Education Group (Host-Site)
(Lesson planning; additional activities)
(Lesson planning; additional activities)
(Lesson planning; additional activities)
Evening
 
 
 
Diabetes Self-Management Class (Host-Site)
 
 
William
Youth Prevention Facilitator at Hubbard House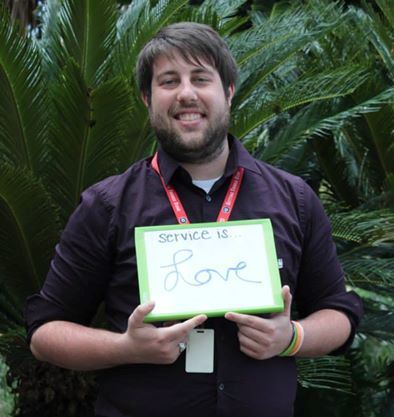 As the Youth Prevention Facilitator at Hubbard House, every week has the potential to be very different!  However, for the most part, you will be teaching Relationship Abuse Prevention (RAP) curriculum two days per week in a Duval County Public School.  Grading the posttests and data entry will follow.  Throughout the school year, you will be regularly contacting schools to schedule new sessions.  Also, regularly, you will be researching ways to improve the current RAP curriculum or to adhere it best to your teaching style.  Generally, there is at least one meeting per week that you will have to attend either for Hubbard House or Full Service Schools.  You will be with the other member at Hubbard House a good portion of the time; so, helping each other co-facilitate sessions or just brainstorming way to improve both curricula is also a good way to spend any down time you may have. 
Britteny
Healthy Start Projects & Care Coordinator at Florida Department of Health in Baker County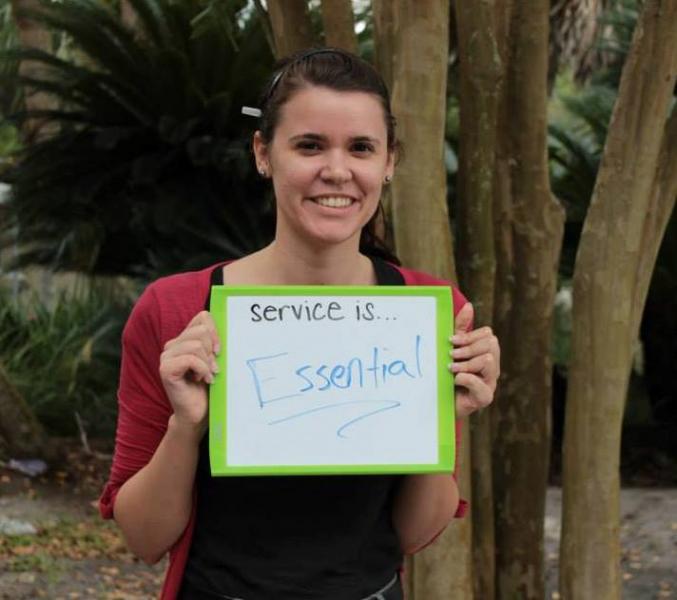 My day-to-day isn't very day-to-day.  There are a few things that I always do.  Tuesdays, in the morning, my site mentor and I teach a parenting class in the local jail.  On Thursday mornings, I'm typically at the local mid-wife's office to contact clients.  Thursday afternoons, I teach a newly integrated safe sleep class at the beginning of WIC's breastfeeding classes.  I also like to go to the Healthy Baker, INC and Baker County Infant Mortality Task Force meetings that are held at the Health Department once a month.  Those meetings give me a peek behind the scenes of public health and an opportunity to be a part of fledgling initiatives in the county.
Besides those things, a lot of my time is spent calling and meeting with clients to see how they are doing.  I give my clients educational materials and help them get on WIC, Medicaid, or other services that they might need.  I also teach safe sleep classes as a part of Healthy Start's crib program.  Needy women are able to receive a free pack n' play after taking part in the class.  When I don't have anyone to meet, I put together materials for the safe sleep and parenting classes.