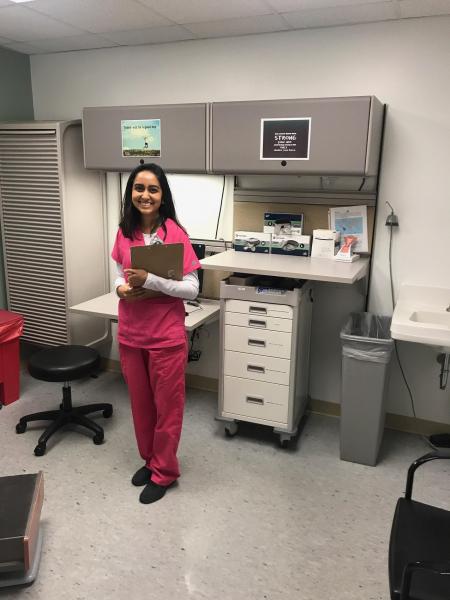 I serve as a care coordinator in the women's services department at UF Health Jacksonville, alongside a fellow National Health Corps member, Reed. In my role, I meet with women and families during their first prenatal appointment and provide education on having a healthy pregnancy. Since Northeast Florida has one of the highest rates of infant mortality, we serve some of the most vulnerable populations in the Jacksonville community. 
During my meetings with patients, I assess and address any risk factors for a poor birth outcome such as race, alcohol consumption, and a previous poor birth outcome. I also emphasize the importance of healthy nutrition and physical exercise during and after pregnancy. According to the American College of Obstetrics and Gynecology, physical exercise for women with uncomplicated pregnancies "reduces the risk of gestational diabetes in obese women, and enhances psychologic well-being." As National Health Corps Florida AmeriCorps members, we have a unique opportunity to find creative solutions and develop effective health promotion interventions that address our clients' health needs.
To encourage and motivate our clients to stay physically active during and after their pregnancy, we started a walking club, Moving Moms! We meet at a park or mall in Jacksonville twice a week and walk for an hour. Our hope is to offer a supportive and accessible way for women to exercise during and after their pregnancy. Additionally, as a part of our service, we meet with clients one-on-one on a long-term basis to promote wellness during and after their pregnancies. I enjoy these home-visits because it gives me the opportunity to build relationships with my clients and see them make healthy behavior changes over time. I meet with my client, Kayla*, every other week at her home and we discuss her and her newborn's wellbeing. During the first half-hour of our meeting, we discuss any new developments in her life since I last saw her like doctor's appointments, adjusting to her new job, etc. Throughout my time with Kayla, I have learned a lot about her including her hobbies and interests - like music! Every time I visit her she'll say "Ms. Janki! I have a new song for you!" and give me some new songs to listen to on my car ride back from her home. During our meetings, I will also ask her how she is making progress in her health goals and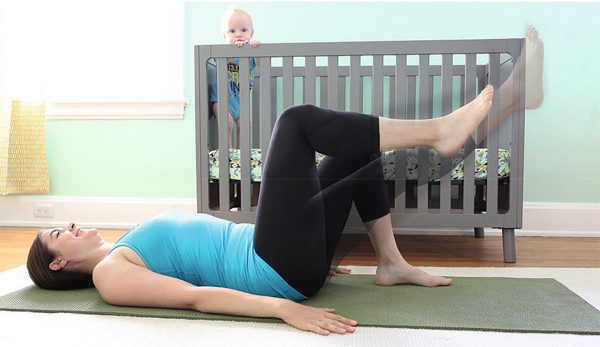 gain insight on whether she is taking her medications regularly, measuring her blood glucose, incorporating exercise into her daily life, etc. During our last meeting, I asked her if she wants to join me and do a few exercises and stretches that are beneficial for postnatal mothers. We did a few stretches together and she said "Wow, I can do these!" and told me she will try to do them daily. Although I consider that meeting a "win," I have seen that it is much harder to motivate clients to change behaviors than I had originally anticipated. Simply providing education on the benefits of a behavior change is not enough to motivate clients. Although Kayla did not feel up to doing the stretches the first time I had shown them to her, she was willing to give them a try during this meeting. I left Kayla's home that day feeling like we had made progress and excited for our next meeting.
One thing I had hoped to gain from my service term as a National Health Corps Florida AmeriCorps member was techniques on how to better support the people I serve. My experiences with the National Health Corps have equipped me with the skills to develop and implement effective community-based health interventions, a skill I am sure I will carry with me into my future education and career. A prime example of a community-based health intervention is the Northeast Florida Healthy Start Coalition. During my service, I have had the privilege of seeing how the Northeast Florida Healthy Start Coalition collaborates with community organizations and providers to reduce infant mortality by improving the health of women, children, and families.
What I find most rewarding about my service is having the opportunity to adapt the services I provide to the needs of my clients. My service with the National Health Corps has allowed me to provide effective compassionate care to my clients. I am able to assess the needs of my clients and meet them where they are in order to achieve their health goals. My hope for the future is that I continue providing care with the same compassion and enthusiasm after my service term.
*Name changed to protect privacy.
---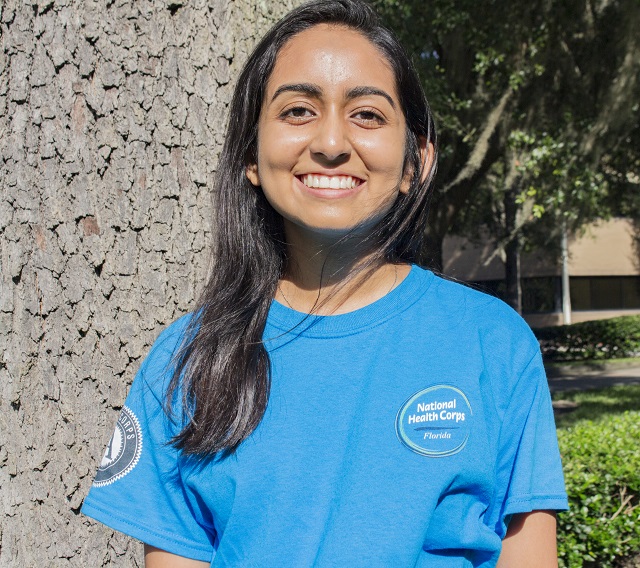 This post was authored by NHC Florida Member Janki Patel.
Janki serves at UF Health at Jacksonville - Healthy Start as a Care Coordinator.