Before grounding myself here in Philadelphia, oftentimes I would joke about the convenience of a brief and painless trip from corner to corner of my former home state, Rhode Island. Having taken this advantage for granted, it is an understatement to say that I was surprised by my new and lengthy commute between host sites across the city. Despite the occasional early mornings and late nights during my service week, these commutes along with help from the area's blessed public transit system has allowed me to see a deeper level of life in the streets of Philadelphia. In the short time that I have been here these images have been paired with knowledge regarding life in the community and how we can all support each other, which has been revealed in the National Health Corps's (NHC) Pre Service Orientation and my host site experiences thus far.
Of the issues that many Philadelphia citizens confront regularly, food insecurity is among the most concerning. While there may seem to be unsolvable barriers to this, the true contributors include perceptions that healthy foods are not affordable, that it is not accessible through reliable or low-cost transportation, myths and stigmas regarding the Supplemental Nutrition Assistance Program (SNAP), and more. During NHC Pre Service Orientation, representatives from the Coalition Against Hunger were brought in to assure this year's NHC team that such resources can be easily accessible. Through education about the organization and its purpose, along with some eye-opening exercises, we discovered how to support our community in the fight against hunger.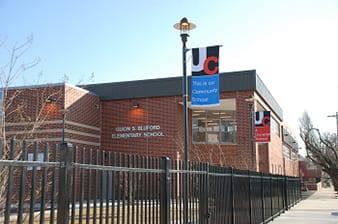 In addition to gaining valuable knowledge regarding how we as NHC members can help to mend such issues, some passionate employees within my host site are also exhibiting their commitment to bringing services directly to those in need. Through my host site, Education Plus Health, Inc., I have been trained to serve Philadelphia charter school scholars and their families by educating them about health-related topics and connecting them with local services. If I were to put one school in the spotlight using this platform, it would be Universal Bluford Charter School. The school is filled with staff members who are incredibly invested in supporting the well-being of their scholars, so much so that they are developing partnerships with other organizations to bring affordable, healthy food to the tables of West Philly school community members. Rather than telling their scholars and families what they could have, Universal Bluford faculty is going above and beyond to bring it to them.

The current state of health among the Philadelphia community may not appear to be at its best, but as I learned in Pre Service Orientation and through the actions of those at my host site there are fortunately ways in which we can solve such dilemmas. This is just a glimpse into the Philadelphia community's commitment to serving each other. After all, this is the city of brotherly love.