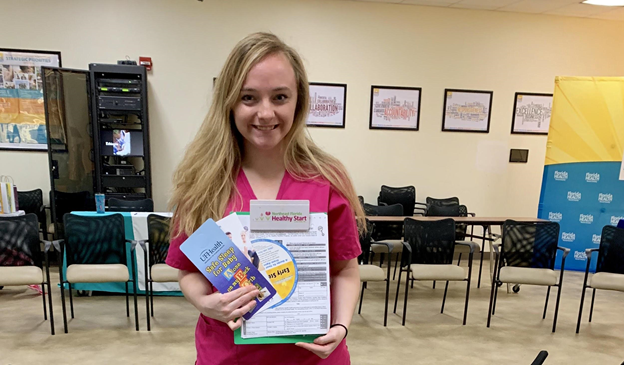 As an NHC FL AmeriCorps member serving as a Care Coordinator at UF Health-Healthy Start, I have something fun to do every day! Read below to learn more about what a typical week looks like for me serving at UF Health-Healthy Start.
Monday: Prepared for the Week

On Monday, I prepared to conduct initial intakes at the UF Health Jacksonville OB/GYN ACC Clinic, Elizabeth G Means Center, Jail Clinic, and the Postpartum Unit. First, I assembled education folders. The education folders are a great teaching tool to enhance my interactions with my clients. These folders include a community resource list, information about healthy nutrition during pregnancy, signs and symptoms of preterm labor, and more.
         Next, I collected information about each of the clients I was scheduled to see throughout the week. The information that I collected included age, last menstrual period, obstetric history, and medical conditions. Collecting this information was important because it helped me meet the specific needs of each client.
         
Tuesday: Served Low-Income Clients at Elizabeth G Means Center
        
On Tuesday, I conducted initial intakes at UF Health Women's Specialists – Elizabeth G. Means Center (EGM). EGM serves low-income members of the community. During the initial intake, I asked the client if she would like to fill out a prenatal risk screen, and I reviewed the responses once she completed the screen. Then, I addressed the clients' risk factors (e.g. race, length of pregnancy interval, age, body mass index), provided prenatal education (e.g. prenatal care, safe sleep, sudden infant death syndrome), and if the client was eligible, I offered her home visiting services.

Wednesday: Taught at River Region

On Wednesday, I had the opportunity to teach community members about birth control methods (e.g. condoms, birth control pills, intrauterine devices, abstinence). It was such a fun and rewarding experience to be able to educate the community about birth control methods, as well as the importance of condom use to protect against sexually transmitted infections.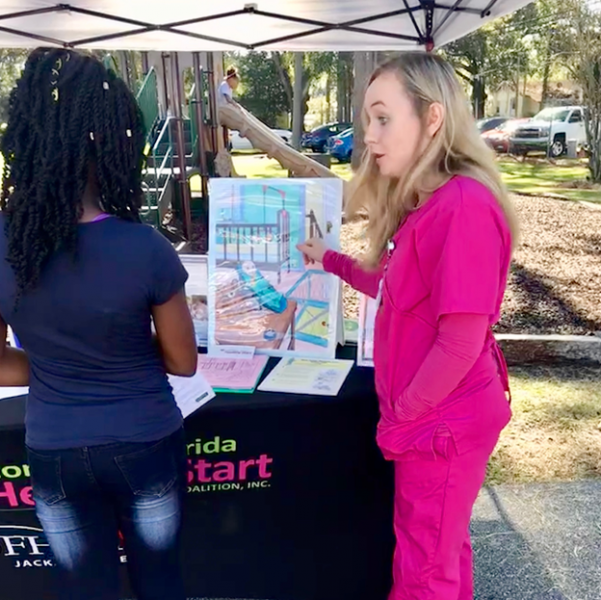 Thursday: Community Outreach
On Thursday, I conducted outreach at a local community health fair.  During this event, I educated members of the community about the ABC's of safe sleep (Alone, Back, Crib), newborn safety in the home, and other pregnancy-related information. It was so much fun going out into the community, building relationships with community members, and increasing knowledge about important prenatal and postpartum information.

Friday: Jail Clinic and Documentation
 
On Friday, I conducted initial intakes with pregnant women who are currently incarcerated. When an incarcerated woman accepts services, she receives one-on-one support and case management in jail throughout her pregnancy. Once I finished conducting initial intakes at the Jail Clinic, I went back to my office and finished documenting all of the initial intakes that I conducted throughout the week.
While my week was busy, it was incredibly rewarding to be able to serve as an NHC FL AmeriCorps member at UF Health-Healthy Start!
---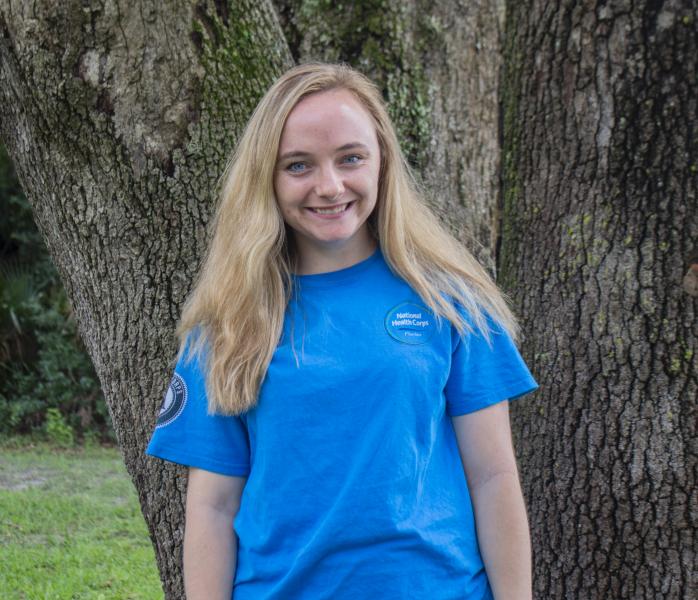 This blog post was written by NHC FL AmeriCorps member, Tess Kucera. 
Tess serves at UF Health- Healthy Start as a Care Coordinator.