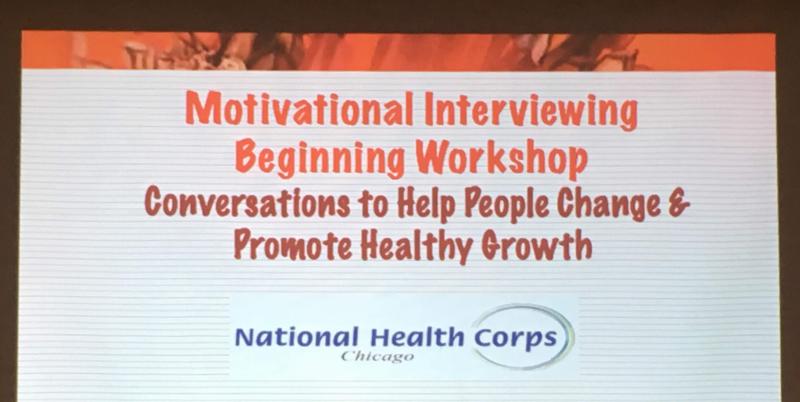 An exciting element of being a member of the National Health Corps Chicago is In-Service Days.  Once a month the members of the Corps gather at different locations throughout the city and have the opportunity to engage with each other as well as learn about new subjects.  Guest speakers come and lead a mini-training on specific topics aimed at improving our skills and knowledge within NHC's six core competencies:  public health, public health practice skills, cultural competency, communication, professional development, and civic engagement.  Each opportunity increases our capability to better serve the communities at our host sites and allows us to become greater advocates for public health.
A skill that we were introduced to early in our NHC Chicago term was a workshop on Motivational Interviewing.  Motivational Interviewing is a communication technique where each person works with the other, as opposed to one being a 'leader' and the other a 'follower.'  It's a "collaborative, goal-oriented style of communication with particular attention to the language of change.  It is designed to strengthen personal motivation for and commitment to a specific goal by eliciting and exploring the person's own reasons for change within an atmosphere of acceptance and compassion."[1]  While we were lucky enough to learn about it during a two-hour workshop with a member of Motivational Interviewing Network of Trainers, I don't think Motivational Interviewing is that complex of a topic.  The spirit behind it is rooted in respect and humility; it is about partnership, acceptance, evocation, and compassion—all basic concepts, fundamentally.  
Perhaps this is one of the reasons why I love it.
I serve as a Case Manager with the Homeless Outreach Project at the Legal Council for Health Justice, where our project serves individuals experiencing homelessness with severe mental illness to aid them in receiving Supplemental Security Income/Social Security Disability Insurance (SSI/SSDI) benefits.  Navigating myriad ways of government processes and roadblocks can be a challenge for anyone, but it is particularly stressful for individuals facing fundamental hardships such as mental health disruptions, homelessness, and lack of support.  The disability application process can take as long as two years to resolve (with no guarantee of even being approved for benefits); understandably, individuals have immediate needs in the meantime.
Recognizing both the slow process of benefit awards and concern for clients, our project takes a "whole-picture" approach to an individual's life and circumstances, and strives to support clients' well-being along with advocating for disability benefits.  Connecting individuals with medical care, coordinating with their insurance, or checking in regularly encourages improved health and wellness in the absence of consistent monthly income.  Further, being conscious of the multi-dimensions of an individual's life allows for understanding the role of trauma.  A majority of the clients have a history of trauma, and in order to accurately represent their case as well as to holistically support them, our project works within a trauma-informed framework.
Utilizing Motivational Interviewing is the perfect tool for communicating with this population (and everyone!), as like our project, it is also a trauma-informed and harm-reduction way of interacting.  It takes a strength-based approach to communication, and recognizes that each person is an expert at their own life; further, non-judgmental communication helps build trust and MI's collaborative process helps build empowerment for change.  These elements are particularly important when interacting with vulnerable populations, as in order to be responsible and caring, it is necessary to strive to avoid actions that can be re-traumatizing.
Practical applications of MI rest in the core skills of OARS:  Open-ended questions; Affirming; Reflective listening; Summarizing.  Having this knowledge prepares me with tools when speaking with clients, which helps ease the flow of conversations.  Often one can feel at a loss for words or hesitant about the proper track for how to proceed with a conversation, especially if challenging subjects or situations arise, and being able to gently pull on these OARS while in my role has been an enormous help.  Additionally, by focusing on the words the client says through utilizing reflection, it helps avoid re-traumatizing an individual by not mischaracterizing or misinterpreting their message.
Motivational Interviewing is a tool to support change, though in using it the practitioner recognizes that it's important to meet people where they're at.  There is no agenda or conditions to this relationship, as instead it's a way to communicate in an authentic, respectful, harm-reducing manner.  While the interactions I have are not therapy sessions, nor am I a therapist, I believe that I can still be therapeutic by engaging with empathy, genuineness, and unconditional positive regard.  Motivational Interviewing aligns with my personal beliefs on how to interact with others, and learning additional tools and practical skills for continued ways of how to put these values into action has been a wonderful opportunity.
[1] Miller & Rollnick, Motivational Interviewing, 3rd Ed., 2012, p. 29, Guilford Press.
---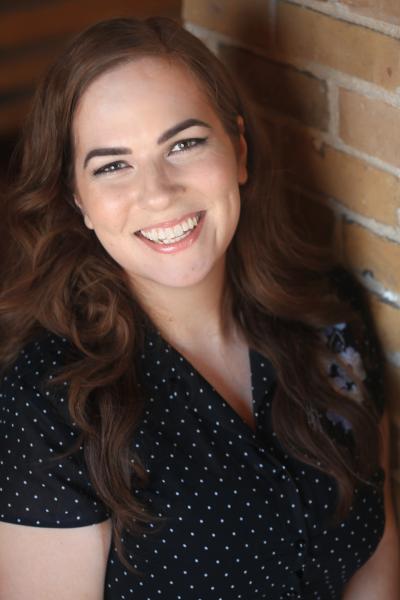 This blog was written by 2018-19 NHC member Megan Tideman.
Megan serves as a Case Manager at Legal Council for Health Justice.